We travelled back to Tristan da Cunha early last September, after a long and busy period of leave.  It all worked in very well (at least it has done so far!).  My two year contract was extended for a couple of months, which in turn meant that we had a generous amount of time back in Scotland (and France, and England).  It also meant that I could run 'hands-off' on our farming operations on the island, as a sort of trial run, – as well as lining ourselves up for no fewer than four summers in a row!
Through the next four months, we gradually came out of winter in the southern hemisphere, and life continued pretty much as normal.  Farming events continued to take place, expat staff continued to arrive and to leave, and whenever the weather was suitable there were fishing days, harvesting the Tristan Lobster.  However, there was one action that did not take place for that whole time.  There were no visiting ships.
To clarify.  The two fishing factory ships that are operated by the South African company that holds the fishing concession visited as normal.  Each in turn, they arrived off the island, unloaded their cargo onto powered rafts, went fishing, backloaded the packed + frozen lobster from the island, and returned to Cape Town.  These are regular ships, not really visitors.  And in this whole time, there were no visiting ships – no cruise ships, no visiting fishing boats, not even a lonely yacht!
On Friday 4th January, that all changed.  We have three South African engineers working on the island for some months, and for almost four weeks they are pretty much working on their own because the whole island is on holiday.  When they went down to the harbour at 6.30 in the morning to start the day's work – for the first time ever there was a yacht tied up in the harbour!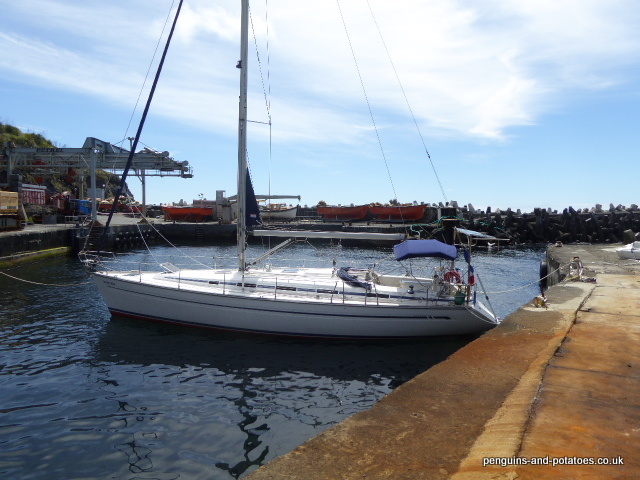 Why would it have been the first time that a yacht tied up in the harbour?  The island authorities always instruct visiting vessels to anchor off; they are never allowed to come into the harbour.  The harbour is extremely shallow, and although it may for a short time have sufficient depth for a shallow-draft boat, when the sea is calm, as soon as any swell enters the harbour it becomes untenable because of the highs and lows that the swell brings.   Some three years ago, contractors carried out a project to deepen the harbour, before which it would certainly have been impossible for a yacht to tie up inside, no matter what the sea conditions.
In the case of the yacht last Friday, it appears that they tried to radio a couple of times shortly before dawn, to check mooring instructions, but since they did not receive a reply they came all the way into the harbour and tied up.  There were some special circumstances, in that they were very short of water and they were running out of food and fuel.  They were on a passage from Brazil to Cape Town, and they had decided to put in a detour to lay in some stocks.  The shop was opened up for them, someone helped them to some cans of diesel fuel, and with typical kindness islanders gave them bread, potatoes and eggs.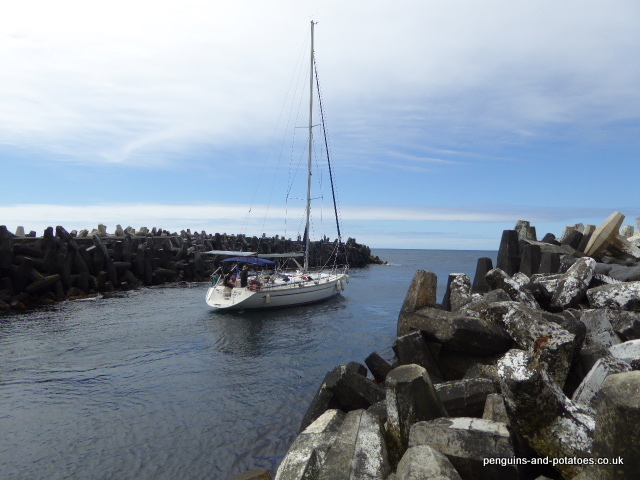 The yacht, called Faustin's Dream, was a Bavaria 44, with two crew on board – a Frenchman from Lyon and another from La Réunion.  The voyage had started in the Mediterranean, and after passing through Cape Town they were heading eventually for Réunion.  They left Tristan on Friday afternoon, and we wish them a safe passage.
The following day, we had another visitor!  This time it was the Falklands Islands registered fishing boat the Argos Vigo, that had come to Tristan waters to go south and fish on some of the sea mounts south east from here.  They came here to pick up two island observers, which always accompany fishing ships when they are working in Tristan waters.  So, after 4 months of no visiting vessels, we have two in two days!