By any standards, Tristan da Cunha is an extraordinary place.  The population is about the size of a small village – just 263 people.  At present this population is augmented by a team who are building the new hospital (22 people) and a team who are carrying out harbour repairs (10 people).  Other than these two teams there are also the individual expats, including ourselves.  Including family members, today there are 27 individual expats on the island.  All together 59 expats on the island, which is a record.  This high number is quite exceptional – sometimes the figure is very much lower and earlier last year the number totalled fewer than ten.  These are very busy days, and with everything that is going on it seems a bit like a real-live soap opera.
I mentioned in a previous blog the forthcoming wedding of Mike and Nena.  Mike is ex-army, and he and I have established that we were at the same event in Oman, when he was doing guard duties at National Day celebrations and I was invited as a member of the Sultan's staff.  That was around 1972.  No doubt we were also at one or more Friday curry lunches, too, at Bidbid, Nizwa or Sur.   Nena comes from Croatia, and was in banking until Mike came around the corner and swept her off her feet.
As I mentioned, their wedding had already been fixed and postponed twice, as a result of Mike being involved in crucial ship unloading operations before Christmas.  So, with great patience and perseverance, a third date was fixed, the 19th of January.  The hall was decorated, rehearsals were done, mountains of food were prepared, drinks and ice were organised –  but then just three hours before the start of the wedding service there was the most terrible accident in which a much loved and respected islander lost his life.  The wedding was of course postponed.
The funeral was the following day.  As newcomers, we were careful to find out about protocol for such an event, and the sad day was charged with emotion.  Mike and Nena established that the expected and accepted thing for them to do was to re-schedule their wedding for the following Thursday, and on January 26th the marriage actually took place.  The morning of the wedding, the widow of the man who had the accident telephoned Nena and told her that she must go ahead and enjoy her special day, she wanted no holding back.  Great courage.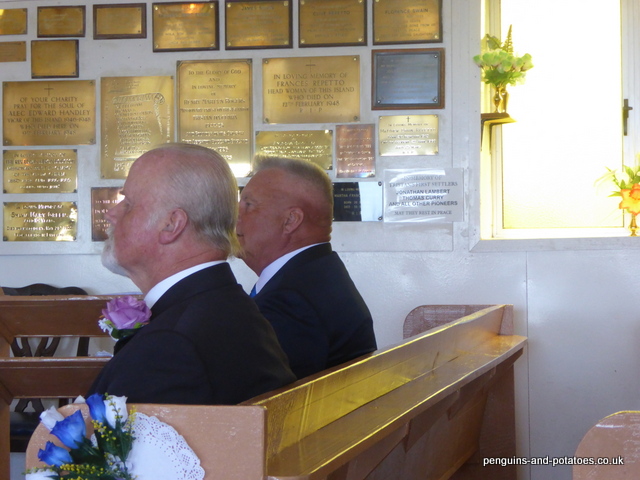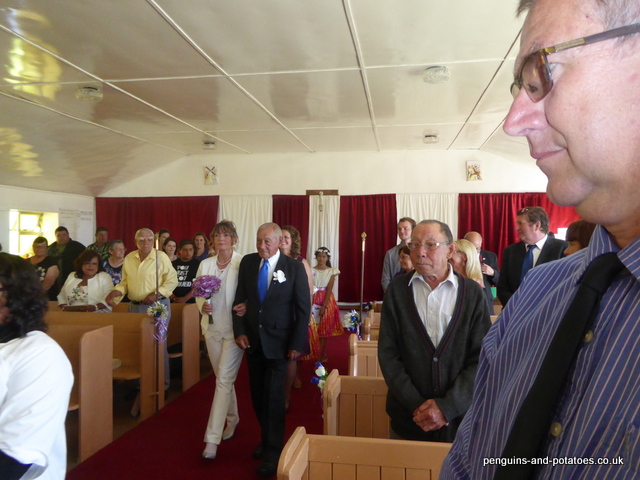 There were many 'firsts' with this wedding.  It was the first time that a female minister performed a marriage service.  Nena was the first Croatian bride.  It was probably the first time that a Welshman acted as best man.  It would have been the first time that Filipina girls were seen as bridesmaids; and it was certainly the first island wedding at which a kilted Frenchman played 'Here comes the Bride' on his saxophone!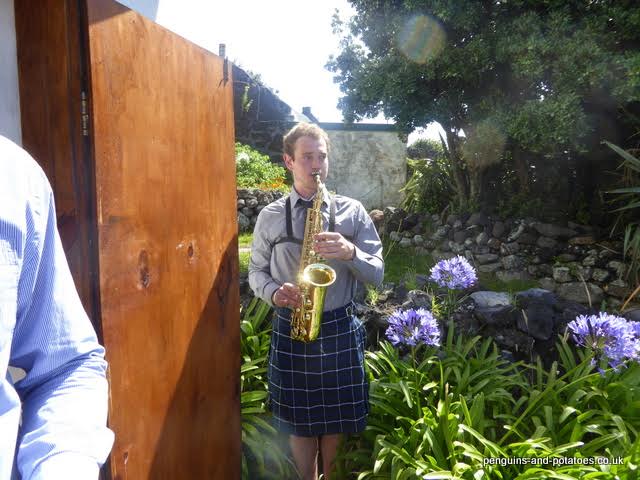 The day was hot, sunny, and with very little wind.   It is not often that this can be said on Tristan!  Temperatures were probably around 24oC, and with very high humidity most jackets did not stay on for very long.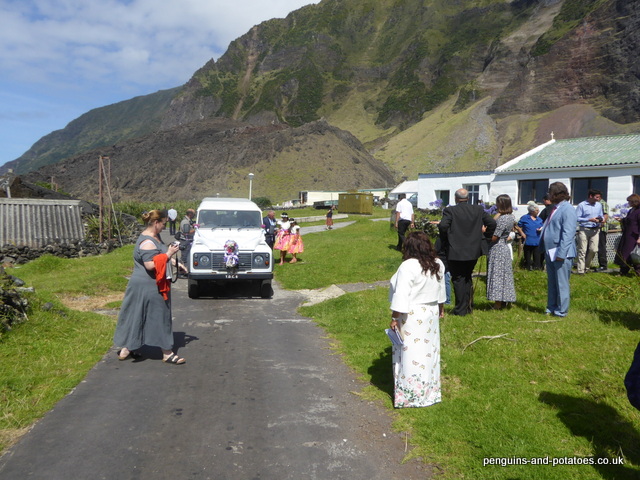 Carlene, the lay preacher,  (during the day in charge of the mechanical department of Public Works)  performed the wedding service, and Harold (former Chief Islander three times) gave the bride away.  Barry was best man, his two daughters Roxanne and Sian were bridesmaids, Sally was Matron of Honour, and Dylan was usher.  Together with the bride and groom, six nationalities!
After the church service, the wedding party piled into the Administrator's Landrover and were driven down to the famous 'Welcome to Tristan da Cunha' sign, for a photoshoot, before repairing to the Residence for some bubbly.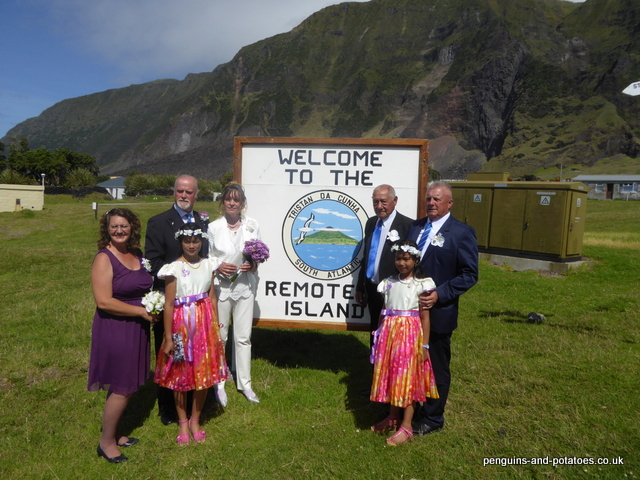 By the time this little group arrived at the Prince Philip Hall the party was already in full swing.  The whole island had been invited, and there was a great mixture of islanders and expats, and of young and old.  The food was amazing – contributed by no fewer than 68 ladies (including of course Bee), the cake had been made by Carlene and exquisitely decorated by Head of Finance Lorraine.  Jonathan (head of a Public Works section)  did a wonderful job with his little team serving copious quantities of quality drinks as well as being in charge of the music.  Robin (Head of Plumbing and Electrical) was official photographer.
Altogether it was a thoroughly good party!