With the development of the society in such a very remote place as Tristan da Cunha, going back over 200 years, it is not surprising that there are some extraordinary aspects to the people on the island, both as far as individual people are concerned, and also relating to how some noteworthy social customs have developed.  That is not, however, the limit to the incidence of extraordinary people on the island.  Some of the expat staff stationed here certainly fit into this category, and some of the visitors also deserve a mention.  All in all, it seems that through its extreme remoteness the island does nurture and attract people who are extraordinary!
Through the eyes of a visitor to the island, some of the working practices are remarkable.  In particular it is astonishing how all members of the community come together for specific work tasks.  For example, when a ship has to be unloaded everyone leaves their normal places of work and becomes part of the unloading team – working as a stevedore on the ship, manning the barges bringing cargo into the harbour, driving a relay of tractors and trailers from the harbour to the warehouse, unpacking crates, and being part of a human chain to stack boxes in the warehouse. There are other events when an 'all hands day' can be declared – for example when everyone is needed to replace a roof on a house.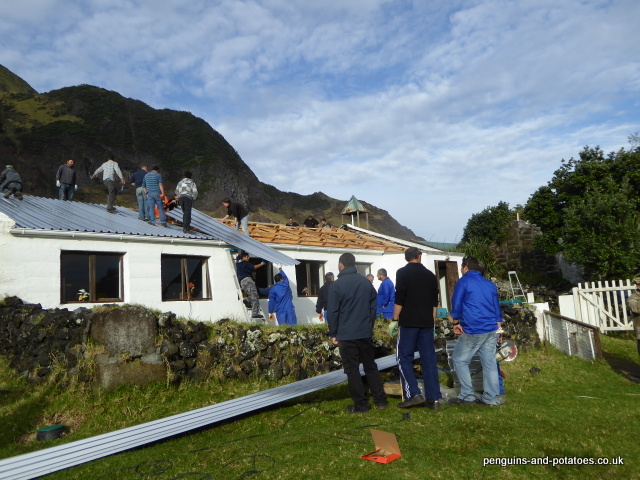 There are also the examples of remarkable people in connection with the island fishing industry.  For the most part, fishing on Tristan means crayfish fishing.  Each boat is crewed by two men, and eleven small open boats go out on the days that have been declared as 'fishing days'.  The boats make a very early start, the little boats wallow horribly in the water particularly when they are not making way when the pots are being hauled.  The boys leave the harbour at first light, and in the shoulder months the low temperatures and the chill factor can be really testing. Every man a hero!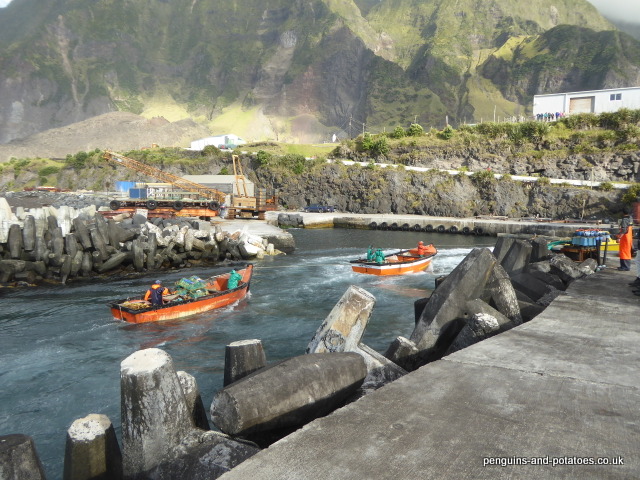 Once the crayfish are landed, they are transported to the factory.  The people who work at the factory are also remarkable.  During the week it is largely pensioners who do this work, some of them approaching the age of 80.  They may work for 8 hours or more during the day, or in the evening the factory siren may call them out for an evening shift of anti-social hours.  The Tristan fishing industry is dependent on this reliable and loyal work-force.  It is another example of the extraordinary people of Tristan.
It should not be thought that all Tristanians are alike – they may come together for specific tasks, but they are generally highly individual.  The population today is just 250 people, and I could probably detail them one by one to show how a high proportion of them are individually extraordinary – but that would not go down well on the island.  I must not be seen to have any sort of bias or favouritism!
At any one time, there are around 12 – 15 expatriates stationed on Tristan.   For example, at present these include three teachers, a doctor and a nurse, the Administrator, a finance man, a factory manager and engineer, a retail specialist, and an agriculturalist (me!), as well as a short-term postdoctoral researcher from the Natural History Museum.  Most of these expats are on 2-year contracts, except for the Administrator who is generally here for three years and the doctor who may be here for five months.  In a general sense, the expats can be described as being extraordinary.  They have committed themselves to spending a couple of years on a tiny island where the facilities are extremely limited (shops, restaurants, healthcare facilities, etc), where they leave behind family and friends, and for the most part where the opportunities for professional contact and CPD (Continuous Professional Development) are quite limited.  These privations are not for everyone!
As a result of Tristan's location, deep in the South Atlantic, there are many scientists and specialists who come to the island.  In the course of the two years that we have been here somewhere over 140 people have passed through.  These may be fisheries experts, conservation specialists, seal experts or bird professionals.  They may be South African personnel going to Gough Island for a 12-month tour of duty, or the team coming off Gough after their 12-month stint.  They may be the construction staff who built the new health centre, many of whom had experience in Antarctica.  Or they may be specialists in seismology, volcanology, global magnetism or nuclear detection.  It is a real experience for the people on Tristan, both Tristanians and expats, to be able to have contact with all of these visitors, many of whom can be described as extraordinary.
Of special mention is the dentist from Edinburgh, who comes to the island every year for three week's work, bringing her daughter with her.  Her much-travelled daughter slots back into the little school on Tristan, where she catches up with all her island friends.  This must be the most extreme example of taking your child to work with you!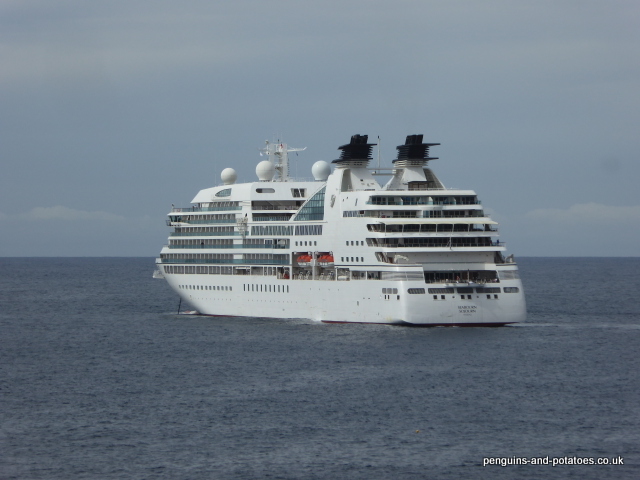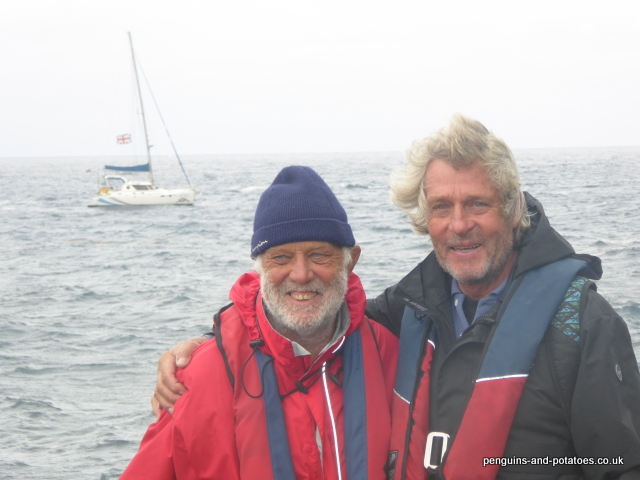 We also have a small number of tourist-related people coming to the island.  A few small cruise ships make a visit, weather permitting, as do a small number of sailing yachts.  That gives us a further  chance to meet some more extraordinary people.  I am thinking here of the two Dutch men in a yacht, who stopped off to buy some groceries and then continued on to Melbourne and finally Adelaide, stopping off on the way at Les Isles de la Desolation.  I am also thinking of the young girl who sailed single-handed from Sweden to Tristan – real adventurers come to Tristan!  And how about the cruise-ship tour guide who came earlier this year – it materialised that before that job, she had joined her partner on a small wooden yacht deep in Brazil.  They sailed the 'wrong way' round Cape Horn, and in two years they sailed back to Norway – in fact she made history by becoming the first Norwegian female ever to sail through the North West Passage.  After passing eastwards through the North West Passage, they of course passed Baffin Island – this is the home of another extraordinary visitor we had here for a few weeks this year!